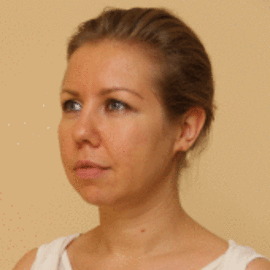 Anastasiya Alekhnovich

ANO «Center of Public Procedures "New industrialization"

Coordinator of Activities of Public Ombudsmen
Education
She graduated from the National Research University "Higher School of Economics" in 2002.
Professional background
She worked at large investment and consulting groups, having progressed from a specialist to a manager.
In 2011 she headed the special projects direction at the All-Russia public organization "Delovaya Rossiya", developed such projects as: "Barometer of "Delovaya Rossiya", Center of Public Procedures "New Industrialization" and others.
Since 2013 – Public ombudsman activity coordinator, Office of the Ombudsman for the protection of the Rights of Entrepreneurs under the President of the Russian Federation.
Since February 2013 she has headed an executive directorate of the Autonomous non-commercial organization Center of Public Procedures "New Industrialization" that specializes in supporting development and realization of the programs for territorial-sectoral complexes (clusters) on the basis of public expert and social platform.
She acts as an expert during the work of different councils, working groups under federal ministries, commissions of the Government of the Russian Federation concerning matters related to the stimulation of development of entrepreneurship, non-energy sector of economics and territorial-sectoral development (competition commission for selection among the subjects of the Russian Federation for giving subsidies to the budgets of the subjects of the Russian Federation to finance events carried out within the framework of the state support of small and medium entrepreneurship by the subjects of the Russian Federation; working group on the preparation of the draft Federal Law "On industrial policy in the Russian Federation", subcommission on providing increased workforce productivity, creation and modernization of job positions of high productivity under the government commission for economic development and integration, and others).
Участие в конференциях